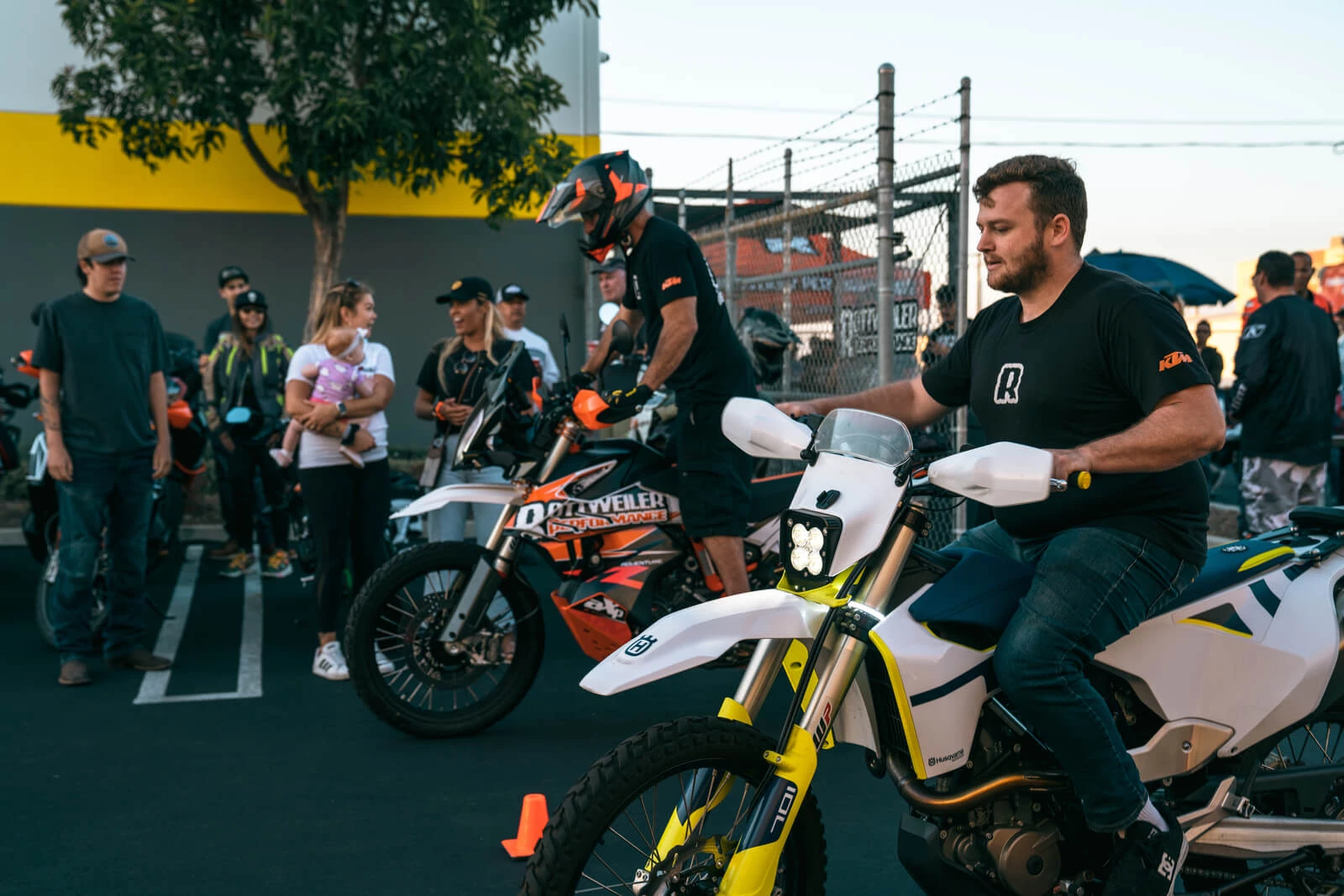 Stay In The Loop
Subscribe to our newsletter to get offers and updates.
Chris Parker
Owner/Product Design
"My motorsports background stems back to 1993 when a custom fabricator named Phil Moore took me under his wing and gave me a chance to prove myself as a precision welder. At the time, I was self-taught and had purchased my own fabrication equipment using my meager earnings from a local grocery store. Some of that equipment I still have today. Phil remained one of my best friends and mentors and was solely responsible for introducing me to the beautiful lands of Baja Mexico. It was there that I would later meet my beautiful wife Mariel, who's in charge of the day-to-day operations of the shop and is the glue that holds Rottweiler Performance together.
When my skills started to show promise, I took a job working for multi-time rally champion Rod Millen, a world-famous New Zealand rally driver and Mickey Thompson champion, who created 'Rod Millen Motorsports' - an ultra-high end vehicle design and fabrication facility. I became an integral part of the build team, responsible for the record holding Pike's Peak Unlimited race cars we produced. I will never forget how enamored I was with the engine in particular. A 2.1 liter 4 cylinder endurance motor built by Dan Gurney Inc. and Toyota Racing Development (TRD) that produced 1100 horsepower at sea level. It was then that I knew motorsports was in my blood. During my time at Rod Millen Motorsports, my skills were honed by wildly varying projects such as special military concept vehicles, autonomous drones, various racing programs, and even the design of virtual reality theme park rides.
Ready for new challenges, I accepted an offer to run a prominent off-road motorsports team based out of Southern California that primarily raced the SCORE desert series in Baja California, Mexico. I was to oversee the preparation and co-driving of the various cars including Class 10, a limited engine open wheel group and a Class 1, a similar class but unlimited engine. During my time there, we won the prestigious Nevada 2000 (1999), Baja 2000 (1999), Baja 1000 (2002) Baja 500 (2003) and a class championship in 2005.
I then started my own race shop called 'CPR Fabrications', designing and producing intake systems and exhausts for exotic cars, Singer Porsche, Trophy Trucks, and just about anything that burned fuel. I wasn't feeling content helping other teams win, so I started my own Baja racing team competing in 450cc racing classes, garnering three top ten overall finishes and a wealth of experience prepping motorcycles to last throughout 1000+ miles of unbelievable punishment. Without question, my years spent racing in Baja and around the world taught me how to prepare a machine that would go the distance with minimal failure. I am very thankful for that and have put the knowledge I've gained into every aspect of what we do at Rottweiler Performance.
My focus has always been to ask the question, "How can we take these already well engineered machines and creatively manipulate them into what we, as a unique consumer with personalized needs would want from a motorcycle." We then take the answers we find and create new and bespoke products around those ideas. From the onset of Rottweiler Performance in 2011 our goals have always been geared towards finding that unique outlet to provide such parts and services that are either rare or nonexistent within the industry."
Mariel Parker
Co-owner/Administration
"Chris and I started Rottweiler Performance in 2010, and it has been very humbling and satisfying to see how much it has grown, and the amazing support from our customers, vendors and peers in the industry. I absolutely love working here. My primary function is to manage the warehouse operations, which includes shipping, receiving, inventory control, logistics, human resources, and so much more. I am involved in every department at different levels, and multi-tasking is my usual motto. (I run on coffee.) Chris and I have been doing it all together since the beginning, except for the creative and development department. That is all him, and his talent to see things in 3 dimensions is so amazing! I am very thankful for Rottweiler, and everything that it entails. We have met so many amazing people, many of whom are now great friends. Rottweiler is my home, and it brings so much joy to my life. Hard work pays off, and we can see those results in our entire business. I am very proud of all the work and time that our team has put into this, we are ready to keep moving, and we have some incredible plans to continue to grow and thrive as an industry powerhouse. This is a very happy place for me to be.
To all our wonderful customers: Thank you, thank you! From the bottom of my heart."
Will Zengler
Purchasing Mgr Product Specialist
"Being with Rottweiler since 2017, I can say that I know each and every department very well and am able to step in for any position to ensure the task on hand is completed well. I manage our sales & purchasing department, as well as lead the way for product acquisition and implementation. I am thankful to be capable of assisting any of my customers or associates when they are in need. Outside of work, I enjoy riding and racing motorcycles, going camping, or wrenching on the next fun project."
Scotty Dimick
Asst. Project Mgr
Scotty Dimick does not currently have any further information available.